15 Apr

Homes for every taste on the Wentworth Estate

According to recent research from Savills the most coveted property to own outside of London is a period house, which have continued to outperform all others post 2008 credit crunch being properties on exclusive estates.

The salubrious Wentworth Estate and St George's Hill Estate in Surrey lead the pack in desirability in the South East of England.  Both estates were designed between 1911 and 1930 by builder Walter Tarrant who was a visionary with the foresight to create two exclusive housing developments designed around golf courses. The bright greens of the championship golf course with state of the art homes carefully nestled between produced something that had not been seen before in Surrey but which would set a precedent for some of the most luxurious estates of the future all around the World. Little did Tarrant know (as his business went bust in 1931) that he had designed the two most expensive estates outside of London – likened by Savills to Central London's Eaton Square or Kensington Palace Gardens.  Many have also equated these grand estates to California's Beverley Hills and Hong Kong's The Peak.
Sadly some say, many of WG Tarrant's homes have since been erased and replaced with modern, cutting edge properties literally fit for a king, but look a little deeper behind the dense foliage that hides these magnificent piles, and you can glimpse a whole host of differing property styles, one for every buyer taste which is a key part of what make these estates so unique.
James Wyatt partner of prime estate agency Barton Wyatt and Wentworth born and bred resident, comments,
"One of the things I love about Wentworth is that no two houses are the same.  This makes it a fabulously interesting place both to live and sell homes. The care and consideration that has gone into these houses – not to mention the money – has created a diverse web of properties, each of which has its own uniqueness and individuality.
"There are streets in Surrey villages such as Cobham and Oxshott where almost every house has been torn down and rebuilt in almost the same design. It is virtually impossible to tell one house from the next and they sit shoulder to shoulder with no space between them.
"It is a sad reality of the age we live in," continues Wyatt. "The traditional Tarrant homes that adorned Wentworth are not the homes that oligarchs and kings want to live in. Buyers love to admire them but ultimately they want to live in a house with impressive high ceilings, state of the art technology, swimming pools, and plenty of bedrooms, all with luxurious en-suite bathrooms."
Whilst period properties may be aesthetically pleasing they can be a serious drain on your time and your pocket. Leaky roofs, damp patches, woodworm, cracked drains, missing roof tiles or just plain, old fashioned rot: the list is endless. According to insurance company Gocompare 81% of people searching for a home want one that needs very little work with less than 25% prepared to take on a property that needed major renovation work.
There is another reason behind the Wentworth Estates' ongoing desirability – the strict covenants which do not allow plots to be sub-divided and built on. On Wentworth one plot will only ever house one home.
Homes for every taste can be found on the Wentworth Estate:
1484-1603 TUDOR
Trumps Mill House, Virginia Water £1,950,000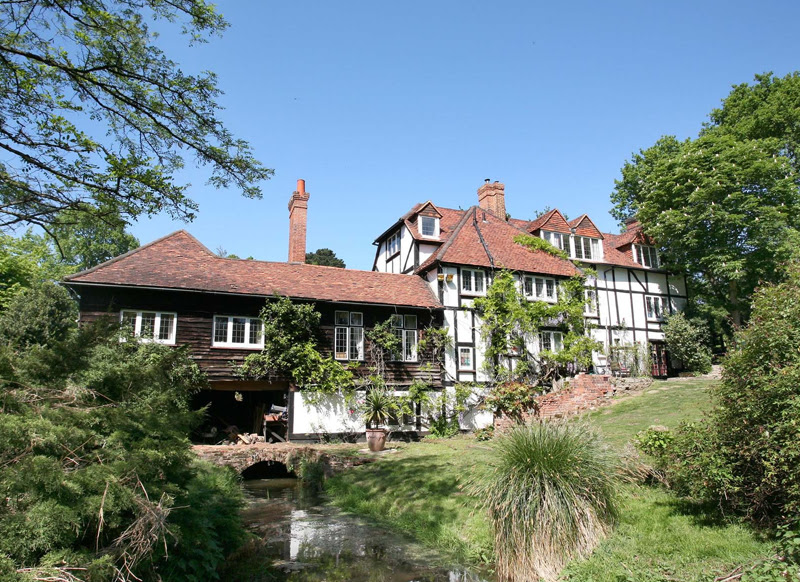 Trumps Mill House is the oldest house in Virginia Water with parts dating back to 1483. It is set in informal gardens with the remainder of its 14 acres of grounds consists of magnificent woodland, with mature trees and carpets of bluebells.
This unique former mill, now converted into a spacious family home, is set at the end of a private lane with the original mill pond in front of the house. The property is reported to once have been the family home of Edward Moseley's sister, who lived in the house for around 50 years. Trumps Mill House retains many original character features and has been thoughtfully updated by the existing owners with modern kitchen and bathrooms throughout.
1720 – 1820 MODERN GEORGIAN STYLE
Many of the new homes that have been built in recent times in Wentworth have taken a modern Georgian style. The classic, simple lines and geometric patterns create a timeless look for these new modern palaces. This style continues unabated, possibly because it sits so well with modern living and does not age particularly.
St Christopher,Virginia Water £3,750,000
St Christopher is an elegant and impressive family home built around 1994. The main reception rooms are laid out in a formal fashion, yet the kitchen/breakfast room, which incorporates a generous conservatory overlooking the rear garden, offers a comfortable living space, ideal for family and formal gatherings.
Set well back in a mature and established garden, the property has an air of elegance and grace but also provides a good degree of privacy and security behind the electric wrought iron gates.
The property further benefits from a master bedroom with en-suite bathroom and separate dressing room, guest bedroom with en-suite bathroom, four further bedrooms, entrance hall, cloakroom, drawing room, dining room, study, kitchen/breakfast room incorporating conservatory, family room, utility room, one bedroom annexe with en-suite bathroom, triple garage and extensive gardens.
MID 18TH CENTURY GOTHIC STYLE
Crossland House, Virginia Water
Originally built in 1884 as a sanatorium by W H Crossland for Thomas Holloway, the hospital was built on spacious grounds in Virginia Water, covering 24 acres of walled parkland.
The sanatorium was derelict from 1980 to 1993 and much of the ancient property was destroyed by vandals for fun and by thieves for profit. The thieves stripped lead from the gutters, which facilitated further water damage. In 1993 a punctilious restoration project was started by Octagon Developments who returned the buildings almost to their original condition.
The Grade II listed chapel is now a recreation hall beneath a hammerbeam roof. The entrance hall is fully restored and is a riot of brilliant colours, patterns and grotesque imaginary creatures, designed in accordance with the 'French Method' to distract and enliven the patients.
Properties come on to the market here now and again and can reach prices of up to £2m for the most impressive homes.
1920 – MOCK TUDOR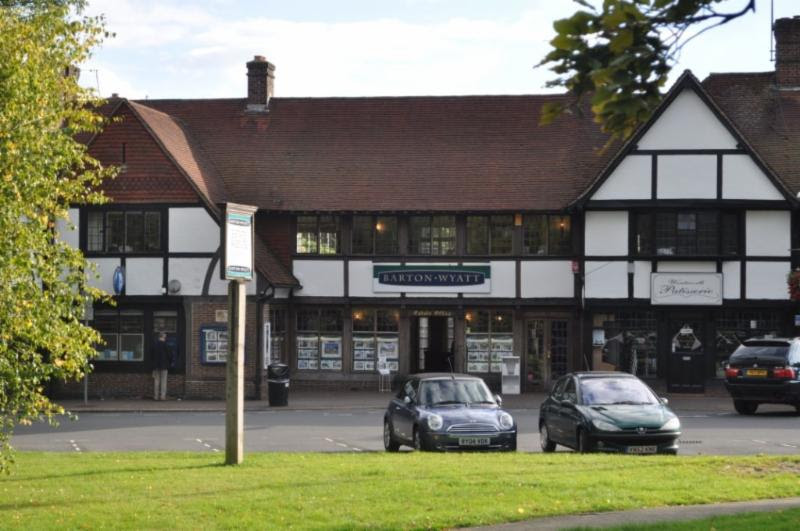 Barton Wyatt's office, situated in a prime spot on the delightful row of shops that makes up Virginia Water High Street was built in 1922. This lovely mock Tudor building has housed Barton Wyatt since they bought an existing Estate Agency in 1965.  The office is about to undergo a transformation, maintaining a classic look while incorporating the latest technology required for running a 21st century estate agency.
1920 – EARLY 2OTH CENTURY TARRANT HOMES
WG Tarrant is best known as a Surrey master builder and developer of St George's Hill and the Wentworth Estate in Surrey. It is down to Tarrant that these two super-prime hubs exist, as he was the visionary that was responsible for laying out these imposing plots set around what have become world class golf courses. One by one these fine homes are being demolished to be replaced with more lavish establishments, though some certainly remain and are still cherished by buyers and owners alike.
Callow House, Wentworth, Surrey  £2,700,000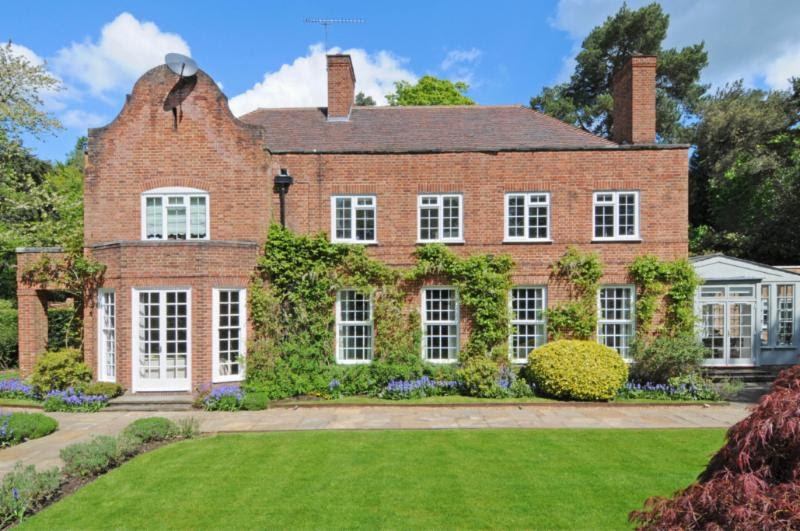 Callow House is a very typical Wentworth country home built in the late 1920's/early 1930's by WG Tarrant.  An interesting and unique design with elegant reception rooms across the southern aspect of the property with excellent ceiling heights and room proportions. The kitchen/breakfast room has been extended to create a large informal area ideal for entertaining, a triple aspect room with a roof lantern full of light, and a children's TV room off, an ideal layout for the contemporary family lifestyle. A gentle staircase rises off the entrance hall to a half landing where it splits in two different directions, one to a guest suite and the other to the main landing and family accommodation with well-proportioned bedrooms enjoying views across the gardens.
MID-20TH CENTURY HOUSES- HUF HOUSE
Huf House, Virginia Water  £2,450,000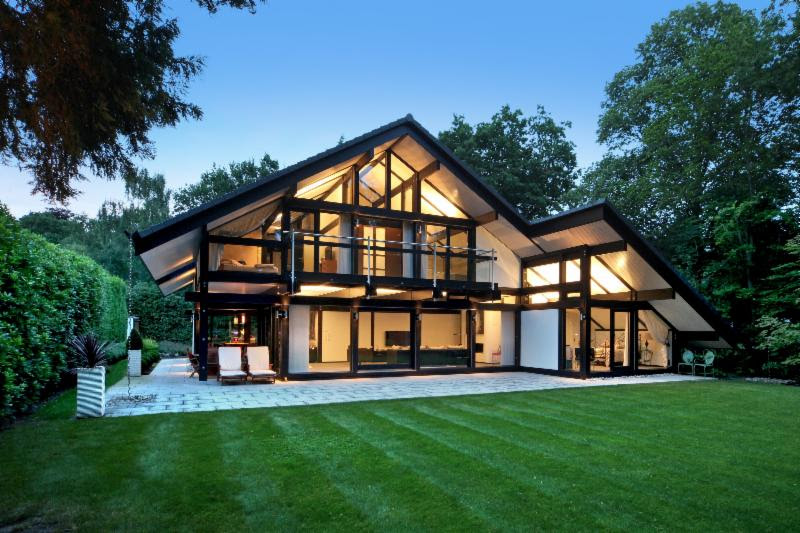 The accommodation is set over two floors. The ground floor reception rooms are mainly open plan with the garden being drawn to the house by the large windows, which are all fitted with electric blinds for shading and security. Further ground floor rooms include a beautiful guest bedroom suite and a separate study/play room. On the first floor there is a very large landing area, which doubles as a library/TV lounge and a gallery overlooking the dining area. The three first floor bedrooms all have large windows and vaulted ceilings.
2014 CLASSICAL GEORGIAN HOUSE STYLE
Hurtwood, Wentworth  £6,500,000
Waiting to be rebuilt this year, Hurtwood is currently a typical Wentworth family home built by WG Tarrant in the 1920s and set in superb gardens and woodlands of approximately 3.5 acres. The current owners have obtained planning consent for a magnificent new mansion house designed by Julian Bicknell to replace the existing 1920s house. Computer generated images show how the front and rear of the approved plans will look when built. A classically proportioned Georgianesque property, timeless in its architectural appeal externally and designed with the modern family lifestyle in mind and open plan versatility for entertaining on a grand scale.
For more details on any of these house please contact Barton Wyatt on 01344 843000 or visit www.bartonwyatt.co.uk.