17 Jul

Improving buyer sentiment in prime regional markets – Savills

In the period of the last three months there have been encouraging signs of improvement in the UK housing market. Though heavily influenced by the more affluent boroughs of London, at a national level annual house price movements have moved into marginally positive territory. Similarly, the housing RICS survey has shown a marked increase in new buyer enquiries against the context of a slowly improving economic backdrop and government measures targeted at the lower tiers of the market.
There is evidence of prices bottoming out in most parts of the market
16 July 2013, Words by Lucian Cook
The prime markets are unlikely to benefit from such government assistance. Indeed, additional stamp duty costs would indicate the opposite. Yet since the wider housing market bottomed out in 2009, the prime markets of London and its commuter zone have outperformed their mainstream counterparts, both in terms of transaction levels and price movements.
While London-generated wealth has been much slower to consistently work its way beyond the prime housing markets of the capital than in previous recoveries, prices with in the prime suburbs have finally been pushed above their pre-crunch peak levels.
This has been particularly driven by a flow of wealth down the A3 corridor into the markets of Cobham, Esher and Weybridge, though there is a clear threshold in the market at £2 million .
The private estates of St George's Hill and Wentworth have performed particularly strongly. Here prices are on average 20% above their pre-crunch level, with strong international demand that is reflected in robust transactions over the first six months of 2013.
Within the commuter zone, the town markets have been the most robust, with locations such as Cambridge, Oxford, Winchester and Bishop's Stortford having exceeded their 2007 peak. These well-established 'cities', that critically are within an hour of London by rail and offer a variety of highly rated schooling, are showing positive growth (1.9%) to date this year.
Generally there has been a significant divergence between the commuter zone and the area of southern England beyond the immediate reach of the capital. However, in the last quarter there have been the first modest signs of price growth in these areas.
That has been seeded in the most established and consequently deepest prime markets such as the Cotswolds, where prices have risen by 2.1% in the three months to the end of March.
By contrast, those markets with a lesser seam of wealthy buyers have been less active.
The coastal market, that has remained constrained by weak demand for second homes amongst discretionary purchasers, remains overpriced in some areas. In this submarket, average values fell by -2.4% for the quarter and are still -26.0% off peak.
Similarly, the prime markets of the North have been far more subdued than their southern counterparts, though there are signs that even amongst these markets prices are bottoming out, led by prime properties in predominantly urban locations such as York and Chester.
In Scotland, there have been similar, though less progressed trends. Prices of properties within the prime districts of Glasgow and Edinburgh, that would be expected to lead the Scottish recovery, appear to have adjusted to prevailing market conditions. That has led to an improvement is transaction levels of prime properties particularly in core central locations. By contrast given high levels of unsold stock, values in the country house markets north of the border have continued to fall despite the fact that they look good value compared to other parts of the UK prime markets.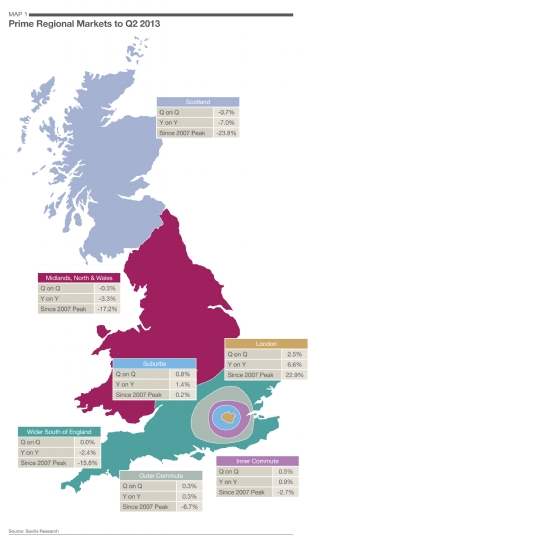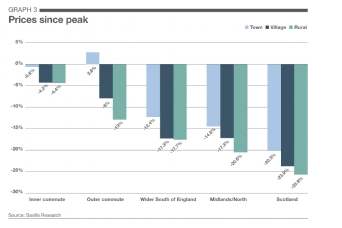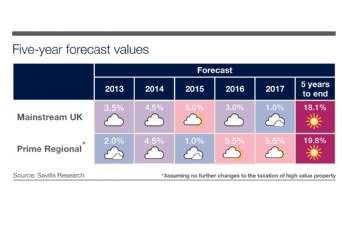 Taken from
Market in Minutes: Prime Regional Residential Markets