07 Nov

Super suburbs will outperform prime London over next five years

Price growth in the prime housing markets of central London is expected to exceed 23 per cent over the next five years, on the assumption that there are no further changes to the taxation of high value property, according to international real estate adviser, Savills, in its five year forecasts released today.  However, the prime markets of the commuter zone are expected to match or exceed this growth as wealth flows out from the capital more consistently over this period.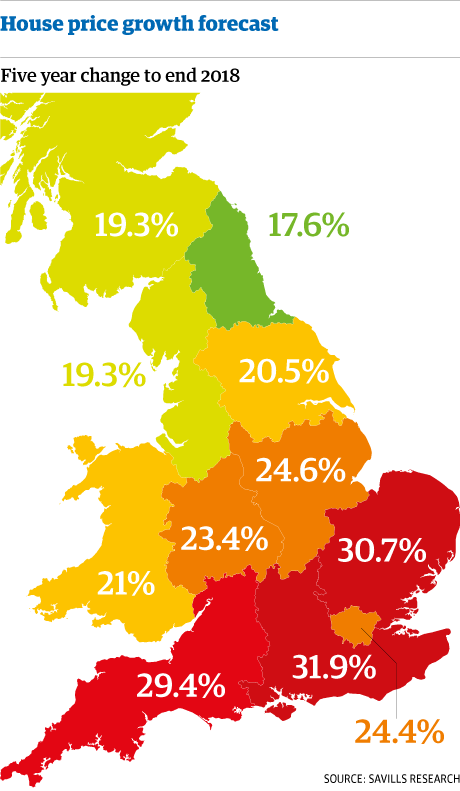 UK house price growth forecasts
View the Savills 5 year prime* market forecasts
Prime London
"A number of risks to the prime London markets, most particularly around Eurozone default, have receded over the past two years," says Lucian Cook, Savills head of UK residential research.  "But because the taxation of high value property is likely to be a contentious policy issue in the run up to the 2015 general election, a lull in price growth in the period prior to polling day is expected."
As a result, Savills forecasts that prime central London prices will rise by 3 per cent in 2014 before falling by -1.0 per cent in 2015.  By contrast, the predominantly prime domestic markets, most notably southwest London, are showing the strongest price growth.  That is expected to continue into 2014, with 6 per cent growth anticipated.
"Across the prime London markets the city's ongoing attraction as a place to live and do business will underpin demand over the longer term.  However, because Labour and Liberal Democrats continue to push proposals for a mansion tax on political rather than economic grounds, the outcome of the election could determine whether there is a post election bounce in values or a modest fall and slower return to previous levels of price growth," says Cook.
"The changed tax environment has already contributed to relatively modest price growth in the prime central London market in the past 18 months, during which time prices have risen by 6.5 per cent at an average quarterly rate of growth of 1.1 per cent.
"An increase in stamp duty and the introduction of annual charges for properties held in corporate structures appeared to have gone some way to addressing political concerns, having significantly boosted the already high tax take from high value residential property.
"Further proposals to treat international investors in the same way as domestic investors for capital gains tax would go further towards creating a level playing field.  Whilst that may make residential investment in London slightly less attractive, in itself it is unlikely to curtail overseas buying activity significantly."
Wealth flow to trigger price growth beyond London
"Until now, the money – and with it the housing market recovery – has remained largely rooted in the capital," says Sophie Chick, residential market analyst at Savills.  "This reflects a global post credit crunch trend for major cities to have anchor status for residential real estate investment."
Since the downturn, buyers of prime property have been reluctant to take their housing wealth out of London, but in the third quarter of 2013 the Savills all UK prime regional index tipped to positive annual growth for the first time since March 2011.  Values in the suburbs and inner commuter zone around London are now +1.2 per cent and just -1.3 per cent below their previous peak respectively and are expected to be the star performers over the next five years.
"The gap between prime central London and its prime commuter markets has probably peaked and wealth has finally begun to flow out of the capital," says Chick.  "We have already seen the predominantly domestic markets of outer prime London outperforming prime central London over the past year and anticipate that 2014 will be the year when the value gap between London and the lead suburbs and prime inner commuter belt finally begins to narrow.  We expect 2014 to be the year of the super suburbs."
Further from London, values are between -15 per cent and -25 per cent below peak, with a real ceiling for transactions at £2 million created by the introduction of a 7 per cent stamp duty threshold.  These markets are far more dependent on demand from wealth generated in the local economy, with the ripple effect from London taking longer to arrive.  That means the further a market is from London the lower the forecast growth, even though all prime markets are now in recovery.
Read the latest Residential Property Focus here
* Average values:
Prime central London £4 million
Other prime London  £1.8 million
Prime regional (excl London)  £1 million